Fantastic effects!
Machinery HDR software generates fantastic effects and is unbelievably easy to use!

Presets
Various predefined settings allow the user to achieve professional HDR effects with just a single click of the mouse!

Even from a single image!
You do not need to be an expert to achieve dazzling effects, even from a single image saved in JPG format!

Multi-core processing
Machinery bearbeitet parallel auf den Mehrprozessoren und ist auch in der 64-bit Version zugänglich, damit die Kraft des Komputers ganz in Ansatz genommen wird!
Fortgeschrittene Effekte HDR
Machinery HDR Effects hat eine Reihe von Zeugen für eine fortgeschrittene Bilderbearbeitung und auch "Endbearbeitung" des Effekts.

Lightroom plugin
Plugin for Adobe Lightroom is available now!

Samples gallery
Visit the samples section to get a glimpse of what the program is capable of.
Samples
Download
To try out the software download the Demo Version – absolutely free of charge!
The installer does not contain advertisements or any additives.
Download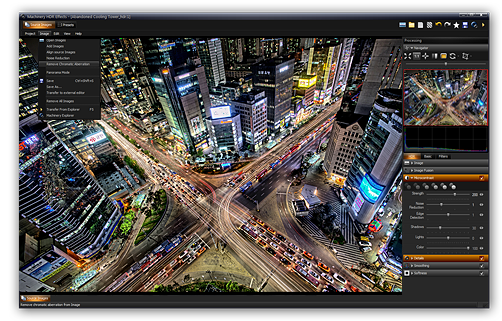 Wie entstehen solche
EFFEKTE?
Das ist möglich dank der HDR-Technik (High dynamic range imaging), die den Helligkeit- und Farbenbereich im Vergleich zu der Standardphotographie erweitern lässt.
MACHINERY HDR ist ein Bildbearbeitungsprogramm, das die HDR-Technik anwendet. Sie brauchen keine fachlichen Kenntnisse, um auf eine ganz einfache Weise diese wunderschönen Effekte sogar auf jedem einzelnen Bild in dem jpg Format zu erreichen.
Die Interface-Vereinfachung und die Vereinfachung der Menge der Optionen verursachen, dass die Software MACHINERY einfach zu bedienen ist. Die fertigen Einstellungsätze lassen den gewünschten Effekt mit einem Mausklick erreichen!
Das Programm hat schon über 30100 Benutzer!
This program is awesome. I've never seen another program this easy to use.
I've been using Machinery for a few months and I'm thrilled with the program. I like the presets and that you can spot a good effect right away – without fiddling around with the settings.
They recently made big changes – and added support for NVIDIA which accelerated the program.
Version 3.0.30

Generate a color preset 3D LUT
from any photo and video editing application
– Lightroom, Photoshop, Camera Raw and more